One of our customers used the MAF conversion to improve the air intake to his supercharged 1989 BMW E30 325i. The MAF sensor has a much larger cross sectional area than the AFM which improves the supercharger efficiency. The laptop programmable FTC1 was used to both calibrate the fuel curve and retard timing as necessary. The FTC1 also provides a way to fine tune the engine for larger injectors and other engine modifications. This kit utilized the MAF 3.5 sensor instead of the MAF 2.75 sensor normally used on E30 325i's because of the higher horsepower in this application.
Modifications to the car include a custom manifold, pulleys, water/alcohol injection, solid motor and transmission mounts, Bilstein struts and shocks, 22mm front sway bar, 19mm rear, front and rear strut tower braces, free flow dual exhaust, headers, K&N filter, electric cooling fan, and Nordskog digital gauges in the dash.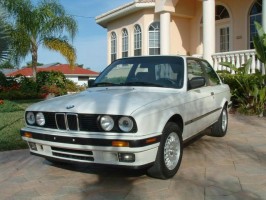 Here is a comparison before and after MAF conversion.
This photo shows the length of tubing which assures a straight flow of air through the MAF sensor for an accurate measurement.