As seen in the March 2003 issue of Truckin' magazine:
This Evil R/T is stroked to 408 ci and supercharged with a Paxton Novi 2000 making 16 psi of boost. It is built with Ross pistons, Eagle rods, Mopar ported/polished M-1 intake, 1.6 ratio roller rockers and Mopar 2.02 R/T heads. It runs a custom return fuel system with high flow pump and 36 lb injectors. It produces 544 hp and 565 ft-lbs of torque without the NX Nitrous 100 shot.
The FTC1 is used to read boost and control the big injectors. It is also programmed to retard timing under boost. Different calibration files can be used depending on the type of fuel used.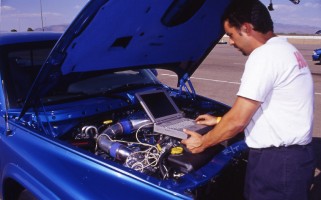 The dyno results show a textbook case of a broad, flat torque band and smoothly increasing horsepower. The motor wasn't even broken in when this test was done. When taken to redline, this motor peaks above 600 hp.