The ARC2 works along with your existing engine management computer to extract peak performance from your engine.
Turbo Neon
Installation of the ARM1 and ARC2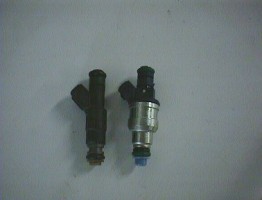 A Comparison of a Stock Injector to the New Turbo Injector
This Neon has taken the Split Second approach. Through feedback from the ARM1 and air/fuel control coming from the ARC2, this Neon can be turbocharged. The ARC2 can calibrate the fuel curve of a stock ECU through its sensors. By using a two bar map sensor, the ARC2 has the ability to calibrate the engine on or off boost. This is a permanent solution that will not compromise driveability or fuel economy. Complete pictures of the turbo installation and dyno results are coming soon.