The Toyota Matrix responds very well to supercharging. Split Second offers an additional injector controller that can be used to re-map the supplemental injector provided with the TRD supercharger kit.
Torque and horsepower can be increased significantly by adjusting the air/fuel ratio. We have found that a water injection system also helps by reducing the intake charge temperature and allowing the use of a leaner mixture. We have tuned several supercharged Matrix cars on our dyno.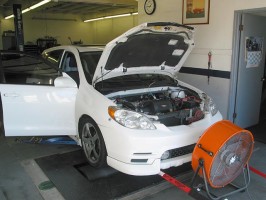 This dyno chart shows a comparison of the performance on a car with water injection with the standard TRD tune vs. the Split Second AIC1-A1L. We set the air/fuel ratio to 12.5:1 on this car. Without water injection we would have set it to 11.8:1. Our tuning resulted in a peak increase of 5 hp and 7 ft-lbs. The gains at 6,300 RPM were even more impressive at 16 hp and 14 ft-lbs.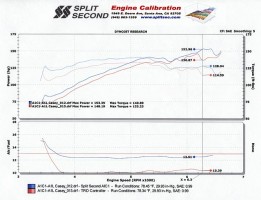 We tuned a Matrix that came to us with a competitor's aftermarket fuel calibrator. We did a baseline dyno run with their solution, then installed and tuned our AIC1-A1L. The result was an increase of 10hp and 5 ft-lbs.