Split Second designed a custom shift lockout mechanism for the Toyota Pro/Celebrity Celica race cars. The shift lockout is vehicle speed based and does not allow a driver to inadvertently select a lower gear when that would cause an over-rev condition.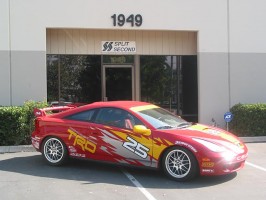 The shift lockout is contained in a mechanism that fits to the shift linkage at the base of the shift lever.
All the race cars were calibrated and tested at Willow Springs Raceway.